HUSQVARNA AUTOMOWER® 315
967623405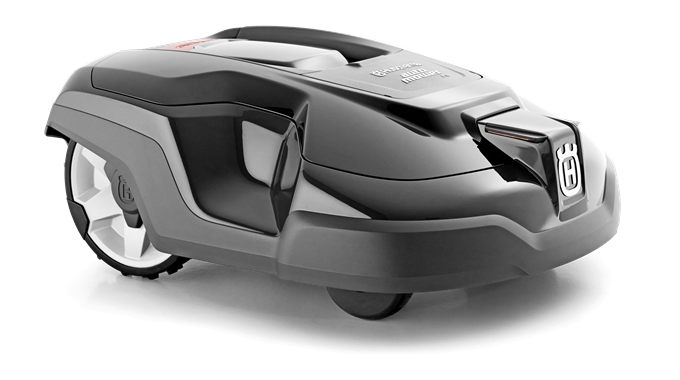 Automower®
Price:
1999.95
CAD
In stock
Meet Husqvarna Automower® 315, an entry-level, family-friendly mowing marvel that will change how you spend your Saturdays. Following decades of development, Automower® is ready to give you the tidiest, most beautiful lawn you've ever had. Featuring smart technology and intuitive controls, Automower® is the world's most capable – and attractive – robotic lawn mower. Complex lawns are a breeze, and tight spaces are no sweat. In fact, thanks to space-age weather resistance, Automower® can perform in the rain, too. Talk about a workaholic! So, go ahead and un-cancel those weekend plans. Who knew the robot takeover would be this convenient? (Automower® Connect and installation kit sold separately.)
Working area capacity (±20)

1500 m²

Working area capacity (±20)

0.37 acre

Li-Ion
FEATURES
Want to take a closer look? Learn more about the product in depth by exploring its design and features.
Weather timer
Adjusts the working time to the lawn's growth rate, meaning that Husqvarna Automower® will maximize its mowing time during periods of strong grass growth. In sunny or dry weather, or late in the season, the mower will spend less time mowing, which decreases wear on lawn and mower.
Reliability
Robotic lawn mowing is all about reliability. Husqvarna has during 20 years of development refined its mower concept to achieve the highest level of reliability, quality and cutting result, with a minimum of assistance.
Excellent cutting result
Thanks to the free movement pattern of Husqvarna Automower® the lawn is perfectly cut, achieving a beautiful and carpet-like look. The razor-sharp blades cut the grass gently from all directions, helping it to grow strong. Moss growth is effectively prevented.
Spot cutting
Special mode to quickly mow a limited area of longer grass. This is especially useful for areas beneath for example garden furniture, once the furniture is removed. Place the mower in the desired area and choose Spot cutting mode. The mower will mow in tight spirals and when finished resume in automatic mode.
Automower® Connect@HOME
Manages slopes up to 40%
Low noise
Unique cutting system
Automatic charging
Theft protection by alarm/PIN code
No emissions
Automatic passage handling
Settings panel
Weather proof
Timer
Easy height adjustment
Low energy consumption
Imbalance control
Lift & Tilt sensors
Guide wire
Profiles
Flexible charging station placement
The Bluetooth® solution, Automower® Connect@HOME, gives you full control of the mower right in your smartphone. You can easily send start, stop and park commands, check and adjust the settings. Bluetooth® communication up to 10 meters range. Standard for all 300-400 series.
Battery
Mean energy consumption at maximum use
10 kWh
Power consumption during cutting
25 W
Capacity
Working area capacity
1500 m² ±20%
Maximum incline within the working area
22 °
Maximum incline inside working area
40 %
Maximum incline at boundary wire
15 %
Cutting deck
Cutting system
3 pivoting razor blades
Dimensions
Product Size, LxWxH
63x51x25 cm