HUSQVARNA AUTOMOWER® 450X
967622605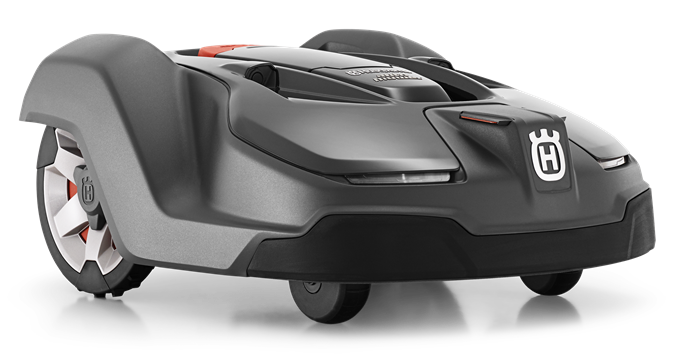 Automower®
Price:
4199.95
CAD
In stock
Meet Husqvarna Automower 450X, the fully-loaded robotic wonder that's ready to take on yards of any size. Thanks to decades of development, Automower is ready to provide eco-friendly grass cutting at your large property. Featuring LED headlights and GPS-assisted navigation, Automower is the world's most intelligent – and friendly – robotic lawn mower. From narrow passages to sloped terrain, Automower can navigate the most complex yards – and it can do so in almost any weather. Welcome to the next step in the evolution of lawn care. Having a perfect yard has never been so easy. (Automower Connect included with Automower 450X. Installation kit sold separately.)
Working area capacity (±20)

5000 m²

Working area capacity (±20)

1.25 acre

Li-Ion

75 min
FEATURES
Want to take a closer look? Learn more about the product in depth by exploring its design and features.
GPS-assisted navigation
An onboard GPS system creates a map of the garden, including where the boundary and guide wires are installed. Husqvarna Automower® will then register which parts of the garden it has covered and adjusts its mowing pattern accordingly. This will ensure optimized lawn coverage and an excellent cutting result.
Automower® Connect
Automower® Connect gives you full control of the mower right in your smartphone. You can easily send start, stop and park commands, check and adjust settings. If required also receive alarms and track your mower's position in case of theft – wherever you are.10 years mobile data contract included. Standard on X-line, optional for all 300-400 series.
Remote object detection
Built-in sensors using ultrasonic technology helps the mower to detect objects, lowers the speed and avoid hard collisions.
Automatic charging
When Automower® needs more power, it finds its own way back to the charging station.
Reliability
No emissions
Settings panel
Timer
Low energy consumption
Excellent cutting result
Triple guide wires
Manages slopes up to 45%
Automatic passage handling
Weather timer
Unique cutting system
Electric height adjustment
Spot cutting
Low noise
Theft protection by alarm/PIN code
Imbalance control
Lift & Tilt sensors
Weather proof
Profiles
Flexible charging station placement
Robotic lawn mowing is all about reliability. Husqvarna has during 20 years of development refined its mower concept to achieve the highest level of reliability, quality and cutting result, with a minimum of assistance.
Battery
Typical charging time
75 min
Typical mow time on one charge
260 min
Mean energy consumption at maximum use
23 kWh
Power consumption during cutting
35 W
Capacity
Working area capacity
5000 m² ±20%
Maximum incline within the working area
24 °
Maximum incline inside working area
45 %
Maximum incline at boundary wire
15 %
Cutting deck
Cutting system
3 pivoting razor blades
Dimensions
Product Size, LxWxH
72x56x31 cm
Sound and Noise
Sound level Measured
58 dB(A)